In this lesson we'll continue learning the vowel sounds.
Review
Review the American English phonetic chart: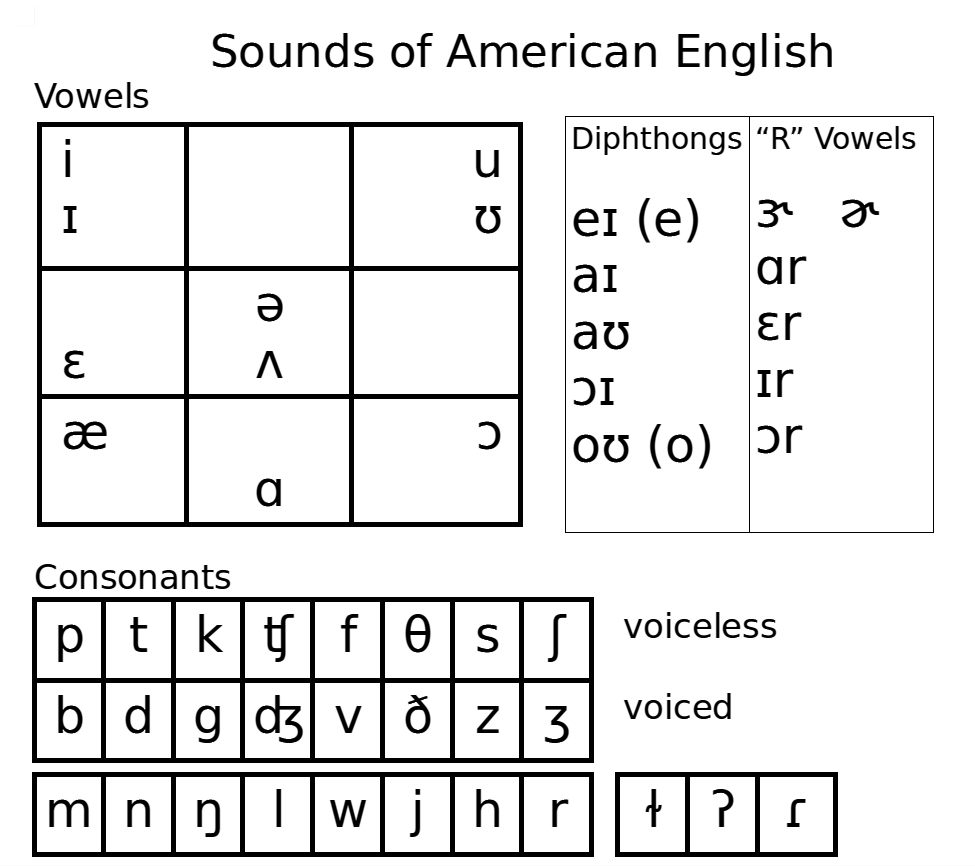 And review the British English vowels: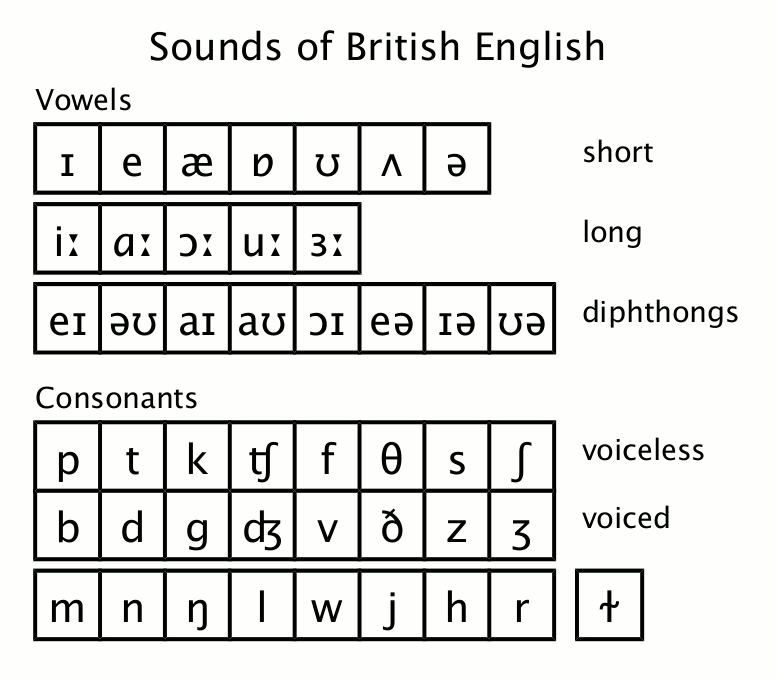 IPA Reading
Although we haven't learned all of the following sounds yet, see if you can read the words below:
| | |
| --- | --- |
| kip | mi:t |
| pɪg | bɪt |
| 'rɛdi | frend |
| mæn | mæd |
| frɑg | ɑ:t |
| lɔ | kɒp |
| kʊd | 'wɔ:tə |
| blu | gʊd |
| bʌs | fu:d |
| ə'gɛn | kʌp |
Diphthongs
Diphthongs are two vowel sounds that are said together.
The /eɪ/ sound
Words
age, safe, may, late, save, ABC, change, May, day, able
Comparison
bit, bate, bet
rid, raid, red
Bic, bake, Beck
min, main, men
Phrases
rave cave
save the date
no pain no gain
Rain rain go away, come again another day.
Song
Edelweiss is a German word, but when said in English it is pronounced /'eɪdəɫvaɪs/.
The /aɪ/ sound
Words
I'm, like, island, aisle, bite, fly, why, idle, kind, night
Comparison
bike, back
height, hat
mice, mass
Phrases
I don't want to die.
why oh why
tie a tie
fly high
my eye
The /aʊ/ sound
Words
out, loud, cow, down, clown, ouch, mouth, router, sound
Phrases
speak out load
how now brown cow
downtown
bow wow
The /ɔɪ/ sound
Words
oil, toy, voice, boy, royal, soil, oink, annoy, moist
Phrases
moist soil
a toy boy
boiling oil
enjoy your meal
Tongue Twister
Any noise annoys an oyster, but a noisy noise annoys an oyster most.
Song
The /oʊ/ sound
Words
oath, cove, low, snow, only, doe, no, wrote, rode, loathe, loath, toe
Phrases
oh no
so low
row, row, row your boat
I don't know
Song
Row row row your boat
Gently down the stream
Merrily merrily merrily merrily
Life is but a dream.
Dictation practice
Using the app, select the vowels that we have studied so far. Then practice writing the sounds that you hear.